Capt'n Crunch Theory (Throw Back blog 2010)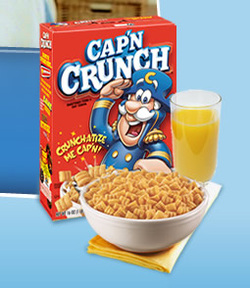 Can you eat the same cereal for breakfast for the rest of your life?

I love Cap'n Crunch, especially after it has sat in the milk just long enough to be a little soggy. I can eat Cap'n Crunch for breakfast, lunch, dinner and in between meal snacks. I have loved this cereal since I was a child and will likely always keep a box of the sweet crunchy morsels in my house.

But to keep it real, I can't have Cap'n Crunch every day. Even the crunch berries and peanut butter flavors are still just Capt'n Crunch with a twist. Sometimes I wanna have grits, sometimes oatmeal or cream of wheat. All I'm saying is I love Capt'n Crunch but I can't eat it every day.

With that said, most people (men and more woman than will admit) are suffering from what I'd like to call the "Cap'n Crunch" phenomena, which is simply they love their companion but sometimes need/want to switch it up a bit. After all, infidelity doesn't necessarily mean that you've fallen out of love with your counterpart does it? Or does it?

Are we made to be with one person for the rest of our lives? Is marriage (or union) a formality that best suits us in theory rather than practice. With the rate of divorce, single parent homes and a growing number of people less willing and/or likely to commit to one person, it seems that marriage and the idea of commitment will be an institution soon forgotten.

What say you? Do you want to get married? Can you see yourself committing to one person for the rest of your life? What will it take to get you to walk down the isle? Can you haveCap'n Crunch (insert your companion's name here) for breakfast, lunch, dinner and snacks for the rest of your life?


*Disclaimer: All blogs and comments are hypothetical and will be reviewed before posting . Blog topics will be available for comments and reposting for 30 days from the publish date.